In London Art Biennale 2017 Ulla Wobst won the European Confederation of Art Critics Award, Second Prize for her painting AND ITS PLACE KNOWS IT NO MORE




AND ITS PLACE KNOWS IT NO MORE



AND ITS PLACE KNOWS IT NO MORE



European Confederation of Art Critics Award


Ulla Wobst participates in the London Art Biennale 2017 29 th March-2nd April 2017 with her painting AND ITS PLACE KNOWS IT NO MORE (Psalm 103,16)




AND ITS PLACE KNOWS IT NO MORE


Ulla Wobst is happy about the book : Ulla Wobst -Curtained Truths , published and edited by International Confederation of Art Critic, London, August , 2016



From 9th to 12th June 2016 Ulla Wobst participates in the exhibition : Triennale dell' Arte contemporanea Verona with her paintings
INTRIGUE , 140 x 120 cm, Oil on canvas, 2015 and
AS TIME GOES BY, 140 x 120 cm, Oil on canvas, 2016




INTRIGUE



AS TIME GOES BY


Ulla Wobst was presented the prize 'Segnalati' at Edinburgh, Nov. 14th/16th, 2015 . She is presented in the book 'Segnalati' ( by Salvatore Russo) with 3 works and exhibited her painting NOCTURNE at the event. She also received the UNICEFdocument for her paticipation in the event ARTISTS FOR UNICEF.



Ulla Wobst feels honoured to have received 'il David di Gian Bernini'-prize for painting together with the 'Anne Frank' prize for Human Rights, Lecce, 17 dicembre, 2016



Yesterday Ulla Wobst sold her painting MITWISSERIN / ACCESSORY to private collectors in Norway.



Art Critic Christopher Rosewood 'International Confederation of Art Critcs' writes a Critical Analysis of Artist Ulla Wobst(2015)



Ulla Wobst feels pleased to participate in the

exhibition I Segnalati

in Edinburgh, 14th to 16th November, with her painting CLAIR DE LUNE.




CLAIRE DE LUNE



I Segnalati Exhibition



Dundas Street Gallery


Ulla Wobst's painting 'BLUE HOUR' won the Art Critique Prize 2015. Her work 'NIGHTMARE' was published on the second page in EFFETTO ARTE, Luglio / Agosto 2015




BLUE HOUR



Effetto Arte



NIGHTMARE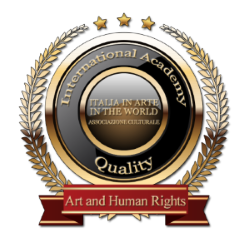 For her work 2015 Ulla Wobst was awarded by ASSOZIAZIONE CULTURALE ACCADEMIA 'ITALIA IN ARTE NEL MONDO' with the HIGH RECOGNITION AWARD 'DAVID BERNINI' together with the 'ANNE FRANK' AWARD FOR HUMAN RIGHTS. They will be awarded in Lecce, Italy, Dec. 17, 2015



Here you can download the actual catalog 2015



Ulla Wobst received the Leonardo Award, Third Prize, for her work THE MUSIC OF LIFE; Chianciano Biennale 2015.




The third prize